Sir Ewen Cameron of Locheil - the 17th Chief and Highland Ulysses - was the last Highland chief to hold out for Charles 1 when Oliver Cromwell and his Roundheads invaded Scotland. In the 1650s he led a guerrilla campaign against the Cromwellian forces. And though he received nothing but a knighthood for his loyalty, in 1689, when Sir Ewen Cameron was 60, he fought for King Charles' son James VII at the Battle of Killiecrankie in the first Jacobite Rebellion. He sent his Cameron Highlanders in to fight at the Battle of Sheriffmuir in 1715 and died four years later in his 90th year.
Of an August afternoon in 1745, Sir Ewen's grandson, Donald Cameron of Locheil, was planting an avenue of beech saplings at Achnacarry when news came that Prince Charles Edward Stewart had landed in Arisaig. Locheil heeled in the saplings, intending to plant them out later, then he hurried off to meet the prince. This was the start of what was to become the last and bloodiest Jacobite rebellion. Left to grow in bunches the beech trees became a living reminder of the tragedy and turmoil that was about to unfold.
No clan paid so high a price for its place in history as Clan Cameron. Their loyalty to the Bonnie Prince's cause allowed the dream of a Stewart restoration to become - for a few months at least - a palpable reality. In what became known as the Jacobite Rebellions, the exiled Stewart monarchy tried to regain their throne by reaching back to Scotland and enlisting the support of the Highland clans like the Camerons, a clan that in many ways was defined by its loyalty to the Jacobite cause.

Clan Cameron
Illustration by R.R. Maclan
Lochiel advised the prince to return to France, but Charles thought otherwise and looked set to begin his rebellion with around 200 MacDonals till Cameron of Lochiel brought almost 1,000 clansmen to Glenfinnan, where the prince raised his standard. Donald Cameron became known as the Gentle Lochiel. He ordered that prisoners taken at the Battle of Prestonpans should be cared for and later ensured neither Edinburgh nor Glasgow suffered reprisals for their oppostion to the prince. To this day city bells are rung when Cameron of Locheil enters Glasgow.

Bonnie Prince Charlie
by John Pettie
Camerons shared every Jacobite victory and charged with suicidal courage at Culloden. Lochiel was carried from the field with wounds in both legs. He was hidden in the mountains, joined the prince in his flight through the heather and the flight to France, where Lochiel died less than two years after the Battle of Culloden.
On Friday, September 12, 1873, Queen Victoria visited Achnacarry House. And that night she wrote in her Journal: As you approach Achnacarry ... the luxuriance of the tangled woods, surmounted by rugged hills, becomes finer and finer." Her Majesty was obviously unaware how the trees came to be planted.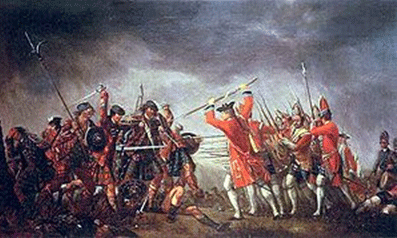 An incident in the rebellion of 1745
David Morier
The story of the Camerons, their origins and centuries long feud with Clan Mackintosh, the highland Ulysses and his grandsons, the Gentle Lochiel and his brother Dr. Archie, the last Jacobite to be hung, drawn and quartered, the story of Culloden and its aftermath is told in the Galloglas DVD, Clan Cameron. Filmed on location to the highest standards Clan Cameron features unique stories that interweave romance, adventure, bravery and betrayal, set against a stunning landscape. (Coming Soon)
Famous Camerons:
James Cameron, Canadian director, producer, screenwriter and financially one of the highest grossing directors of all time.
David Cameron, elected Prime Minister of a coalition British government in 2010.
Cameron Crowe, American screenwriter and film director.